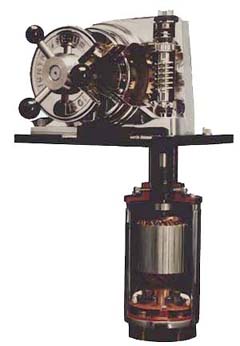 LIGHTHOUSE 1501
WINDLASS SHOWING CUTAWAY VIEW
6.5" bronze gear.
4.3" ball bearings.
17-4 stainless steel hardened worm, rotates on tapered roller bearing.
100% stainless steel gear box.
Clutches are EPDM & Urethane, laminated to stainless steel.
Unique motor design features;
Potted armature
Elevated micarta brush holder plate with bronze brush holders and SS springs.
Motor uses upper and lower sealed ball bearings.
Four samarium cobalt fields, and a welded seam case with machined ends for sealing.