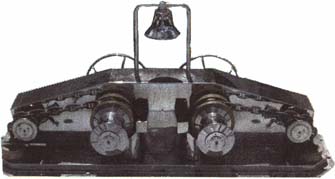 The 6500 model "ADW " shown above has proven popular on modern 40m yachts where foredecks have been compressed. The athwartship configuration uses two independently operated 6500 matrixes for fully independent port and starboard operation.

When manually lowering anchor, the operator is safely located behind the machinery, away from the moving chain.

Remote operation is controlled by electronic consoles on the port and starboard wing bridges. Electronic control consoles can be located inside or outside for helm operation. Foredeck operation is made possible by both deck switches and roving remote pendants, providing the operator with all bridge information. Unlimited number of bi-directional chain counting functions are available at owner designated operator stations.

Automatic, high pressure chain wash system is incorporated into each hawse assembly, using fresh or sea water.

The chain stop system incorporated into the windlass is manual ON and automatic OFF.

The rotary chain jacks and stopper forks are used to snub anchors into pockets for long passages. This eliminates the usual sounds that reverberate through a vessel caused by loose anchors.

SPECIFICATIONS:

Each warping head is operated independently.

Continuous maximum pull: 35,000 lbs.

Foot print: ADW=48"X115" DWG=63"X60"

Weight: ADW=2816 lbs. DWG=1170 lbs.

Power: Hydraulic 25GPM @ 2200 PSI

Axial piston motor driving two stage gear train.

Bi-directional capability provided by Vickers electronic flow valves.

All electronics are pre-wired, using weather proof AMP twist lock connectors.
The LIGHTHOUSE power supply module changes the ships AC system to 24 volt DC low voltage, for safe control circuits. All harnesses are terminated and sized at the factory for easy installation.

All external machinery is manufactured of 304L and 316L stainless steel and polished to a mirror finish. Shafting is 4" 17-4 PH stainless steel.