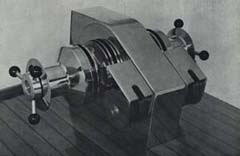 12v to 32v electric
ELECTRICAL:
Motor: Continuous duty, Ball Bearing, Reversible w/DC braking.
Power Consumption:
12v:
free run & rev=8amp
rated pull=80amp
maximum pull=310amp
24v:
free run & rev=4amp
rated pull=40amp
maximum pull=185amp

CONTROLS:
Housed in a self-extinguishing, water resistant, fiberglass enclosure are two (2) 400 amp magnetic relays that provide for motor reversing. A Multi-function, twist lock plug wiring harness, remote control console which controls up and down chain function, and automatically counts chain in a bi-directional manner in both power and manual modes. Counts chain in feet or meters on the LCD readout. The count functions operate independently of ships power.

GEAR HOUSING:
Constructed from 304 stainless steel, sealed case, lifetime lithium lubrication.

SHAFTS
2" 410 hardened stainless steel

MOUNTING
Below deck motor: Requires only 2" hole in deck. Mounts with (8) ½" stainless bolts.

CAPACITIES:
Lift at 12v Continuous 2000 lbs. @ 37fpm
Maximum Depends on power supply
Rope size: up to 1"
Chain size 3/8" through 5/8"(Others available on request).

WEIGHT:
200 lbs.

DIMENSIONS:
Height: 13.00" (330.20mm)
Length: 20.00" (508.00mm)
Width: 31.00" (787.40mm)
Unit will accept up to 4.5" (114.3mm) deck thickness as standard.